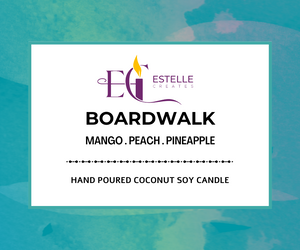 Enjoy the ambiance of our Double Wick coconut soy wax candles
Summer Nights
"Summer Nights" is an exotic, luxe escape that captures the gentle rush of waves. Combining the calming scents of sandalwood, cedar, and amyris, this fragrance is the perfect blend of lightness and woody notes, creating a pleasant and balanced aroma. With hints of essential oils like cedarwood, orange, and patchouli, this scent is the perfect addition to any summer night. Whether you're relaxing on the beach or enjoying a summer evening out, "Summer Nights" captures the essence of a tropical paradise. 
Top-
Benzoin, Coconut Milk
Middle-
Coconut, Sandalwood
Base-
Cedar, Tonka Bean, Amyris
Peach Tea
Our Peach Tea fragrance is a perfect blend of freshness and sweetness. It opens with top notes of rich amaretto, banana, and lime that delicately fold into a juicy heart of peach, mango, and papaya. The scent is further softened by the addition of green leaves, while a base of tonka beans supports the juicy, fruity, and fresh notes. This scent captures the essence of a ripe peach and pairs it with a hint of the tropics, creating a perfect balance of sweetness and freshness. Enjoy this scent and the memories it will bring!
Top-
Amaretto, Lime, Banana
Middle-
Papaya, Peach, Mango, Pear, Green Leaves
Boardwalk
Welcome to summer, all year round with our boardwalk fragrance! Our uniquely crafted scent is a modern tropical fusion of fresh mango and creamy coconut milk. We've blended pineapple and orange top notes with ripe mango and a hint of peach, creating a truly luxurious fruit medley. To complete this warm and inviting scent, our base notes are creamy coconut milk and sweet sugar. With our Mango and Coconut Milk candles, reed diffusers, and melts, you can bring a burst of summer into any room you choose. Enjoy the summer breeze, no matter the season!
Immerse yourself in the fragrant aromas of a stormy coastal scene with our Coastal Waters fragrance. Fresh and ozonic top notes of lemon, orange, and ozone are complemented by a heart of salty sea mist and a hint of jasmine. Powder, light musk, and woody violet and cedar in the base create a beautiful balance of scents that evoke the churn of the sea and wrapp the water, sand, and salt together. Enjoy the unique experience of our Coastal Waters fragrance and transport yourself to the rugged coastlines of your dreams.
Base-
Light Musk, Powder, Violet, Cedar