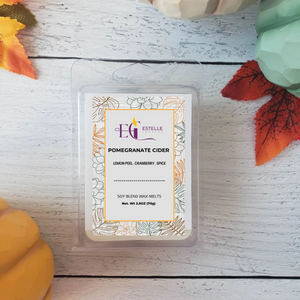 Wax melts are a prefect flameless option to fill your home with beautiful fragrance.
Break off 1-2 squares and place them in a wax warmer. You'll know it's time to replace your square when you can no longer smell the fragrance.
Pomegranate Cider juicy twist on a traditional cider. This scent begins with a top note of bright lemon peel as it gives way to a heart of pomegranate, with cranberry and red currant bolstering the delightfully tart character of this fragrance. Hints of spice and apple cider in the base ground it in the familiar.

This fragrance oil is infused with natural essential oils, including nutmeg.