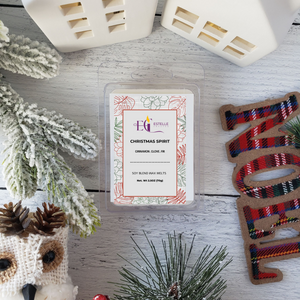 Wax melts are a prefect flameless option to fill your home with beautiful fragrance.
Break off 1-2 squares and place them in a wax warmer. You'll know it's time to replace your square when you can no longer smell the fragrance.
Christmas Spirit is a classic holiday Wax Melt that tells the story of a cozy holiday night spent sipping wine in front of the fireplace. Christmas Spirit combines orange spice notes from the kitchen, fir and pine notes from the Christmas tree, and an earthy smokiness from the fireplace.

This wax melt is infused with natural essential oils, including orange, cinnamon, clove, vetiver, and pine.